Original 0.05 U.S. dollar five cents coin (circulation) from 1941
Pre-war, 100% authentic, with no mint mark.

Designed by: Felix 0. Schlag
Issue dates: 1938 to date
Composition: 0.75 part copper, 0.25 part nickel
Diameter: 21.2 mm
Weight: 76.16 grains (5 grams)
Edge: Plain
Proof Mintage: 18,720 - Mintage: 1941 P - 203,265,000
Proof Mintage: 0 - Mintage: 1941 D - 53,432,000
Proof Mintage: 0 - Mintage: 1941 S - 43,445,000
In 1938 the nickel was redesigned. Entering a competition with 390 artists, Felix Schlag captured an award of $1,000 for his motif picturing Thomas Jefferson on the obverse and a corner view of Jefferson's home, Castle Monticello, on the reverse.
In the final production design, the profile of Monticello was changed to a front view.

The finished product depicted a head and shoulders portrait of Jefferson facing left, with IN GOD WE TRUST to the left and LIBERTY and the date to the right. The reverse depicted Monticello at the center, E PLURIBUS UNUM above, and inscriptions of MONTICELLO, FIVE CENTS, and UNITED STATES OF AMERICA below.
Grading Jefferson Nickels:
VF-20 - Acronyms used in Coin Collecting
Mint Mark: http://www.shawneecoin.com/library/us_5c_jef.html
Offer from 146.145,00 Euro
note: the price is not negotiable.
Contact: jefferson1941(at)wifihw.nl (No Spam)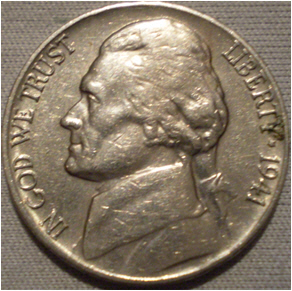 De 5 cents geeft de kop van Thomas Jefferson weer, de keerzijde is zijn woning Kasteel Monticello.
Deze munt verschijnt voor het eerst in 1938 in cupro-nickel.
Door de Tweede Wereldoorlog wordt van 1942 tot en met 1945 in plaats van koper en nickel een mengsel van mangaan en zilver gebruikt.
Vanaf 1946 is de standaard cupro-nickel.
Bron: http://forum.munthunter.nl/viewtopic.php?f=7&t=2997

unique (1941) - rare